Dubai's culture is diverse and rich, and the people who live there have their own values and traditions. It is also called the hub of technology, where many businesses from different countries want to make their mark. And if you are also one of them, then it is essential that you have good knowledge about the place and the brand's marketing strategy.
Additionally, if you don't know much about it, then stay with us on this blog till the end.
Why Does Your Business Need Brand Marketing in Dubai?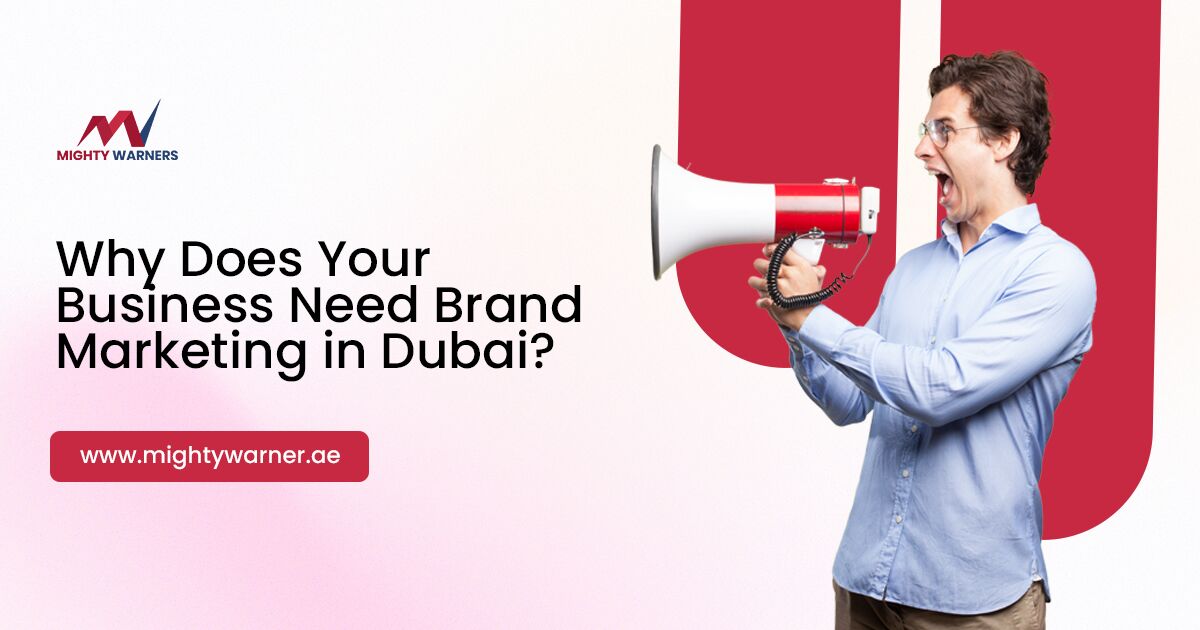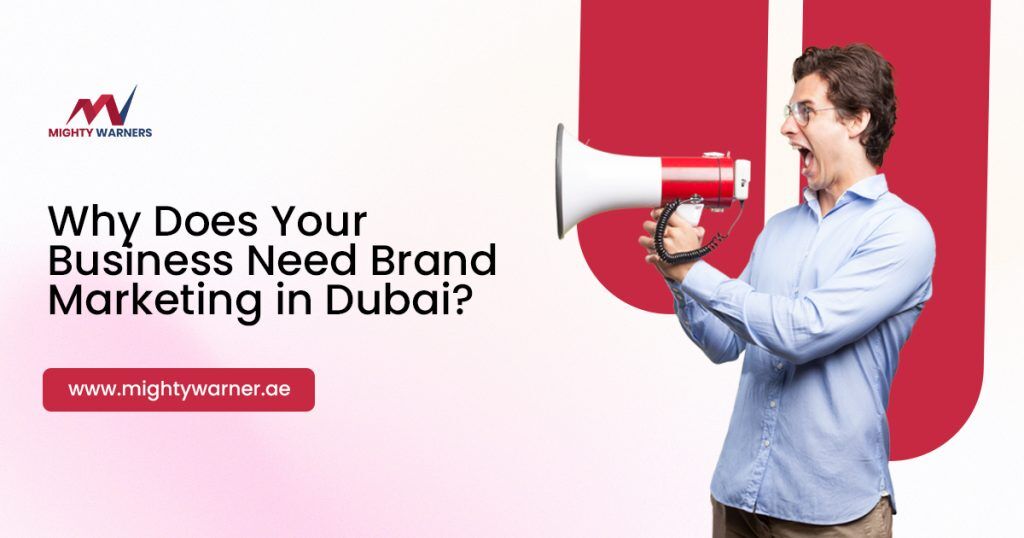 Brand marketing in Dubai is a dynamic concept of digital marketing strategy. Simply put, it means advertising the products and services of a brand on a digital platform. It helps to raise brand awareness and tell the story of your business to the audience.
But, one thing is important to understand branding is more than logos and design. It's more about how a brand connects with its customers. This includes the target consumer, culture, language, gender, lifestyle, and standard of living.
Moreover, if you are able to understand these things, it helps you win the trust of your audience and build a strong relationship with them.
Also Read: How do you find the best SEO Agency in Dubai for your company?
7 Key Points for Successful Brand Marketing in Dubai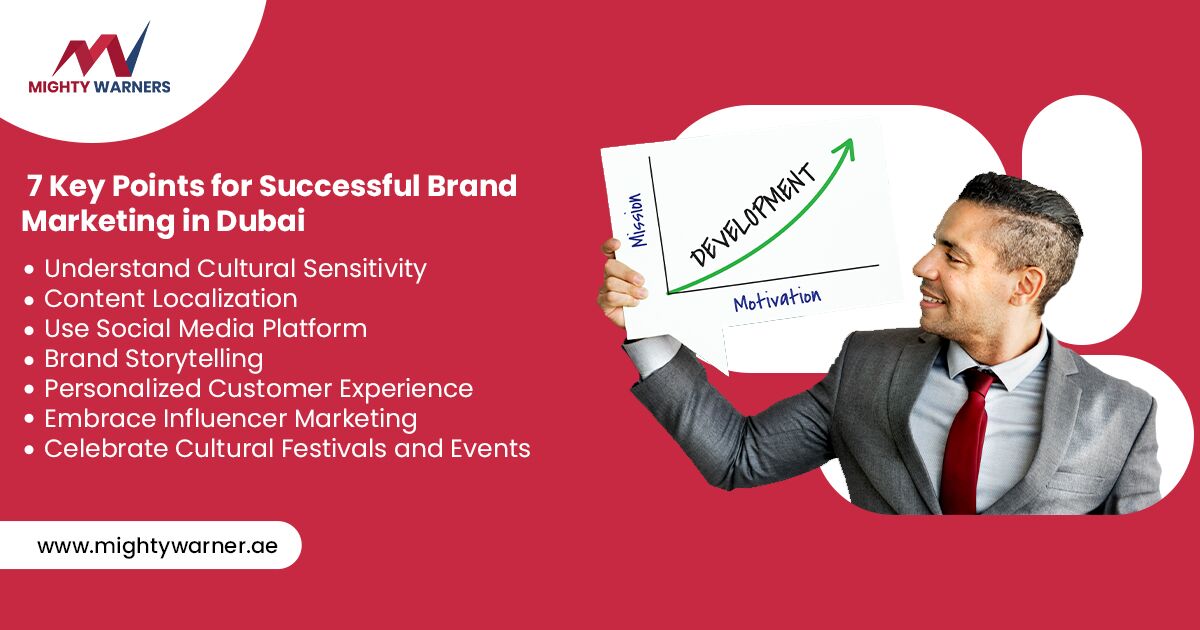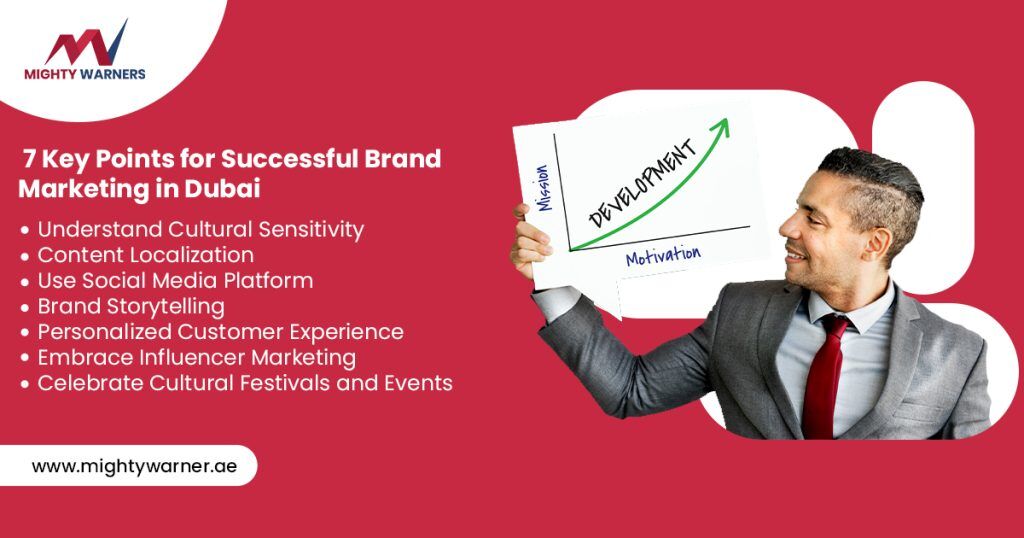 If you want successful branding for your business, then it's necessary to understand the audience you are going to target and their culture. It helps you make a perfect branding and marketing strategy that skyrockets your business.
So, here are some strategies that you need to keep in mind when you are marketing your brand:
Understand Cultural Sensitivity
Marketing can be a little easier in Dubai if you understand the cultural sensitivity there. Cultural sensitivity works as a cornerstone that helps to connect with the audience quickly.
As we all know it is hard to understand the culture, traditions, and customs of any country, and also a time-consuming process. But once you understand it, your marketing process will become more positive and effective.
Content Localization
If your content is in a local way then there is a higher chance that you can grab the attention of your audience. Because localization is one of the best key points to engage with them. Try to make your content both ways, written as well as visual because it helps to give value to the preference of your target audience. It helps you in the better marketing of your brand.
Use Social Media Platform
Social media is one of the best platforms for marketing a brand in Dubai. A huge number of people are active on it and also sometimes use it for shopping. It boosts online visibility and drives huge traffic to your brand.
However, there is massive competition in the social media platform. But if you put a creative post that is engaging with your brand or business then your brand can boost it.
Brand Storytelling
Tell the story of your brand in the local language because it adds value to your story. Your brand story should be in a positive way that can present emotion, and make a connection with the audience.
The brand story works as the heart of your brand and communicates with the right people at the right time. It also keeps you out of unhealthy competition and humanizes your brand.
Personalized Customer Experience
Everyone likes personalized experiences. You will attract your audience if you can give them a personal experience and make them curious about your brand. The audience becomes more trusting as a result.
Know about your audience's location, behavior, customs, and preferences then accordingly target them. This can help you get more and more ideal customer forms which you will get good sales.
Embrace Influencer Marketing
Apply influence marketing to advertise your brand because these days, it is very popular globally. You can hire a well-respected and valued person who has massive followers on the social media platform. And advertise your brand and its products and services to them.
Additionally, It can give very significant results because they have already won the trust of the audience so when they market your brand, the audience trusts them and whatever they promote.
Celebrate Cultural Festivals and Events
Always participate in local festivals and events in Dubai. Additionally, align your marketing campaign with the brand with famous festivals like Ramadan, Eid, or national holidays. It will show your brand commitment towards the audience who are connecting with you.
Conclusion
Brand marketing in Dubai is one of the best marketing concepts. But the important is that you have knowledge about the key strategy because a well-planned strategy can help in achieving success. So, we have shared some best strategies for brand marketing that help you grow and make a brand name.
FAQ
1. What does brand marketing do?
Brand marketing is the process of advertising the products and services of the brand and telling the story of it in the appropriate way.
2. Is marketing in demand in Dubai?
Yes, marketing is in demand in Dubai because many businesses want to market their products and services and make their brand.
3. How to start a brand in Dubai?
Here are some key steps to start your brand which is given below:
Select Industry
Choose Location
Decide Company Name
Complete the incorporation paperwork
Apply of Licence
Apply for Visa
Open Bank Account
Do your Business